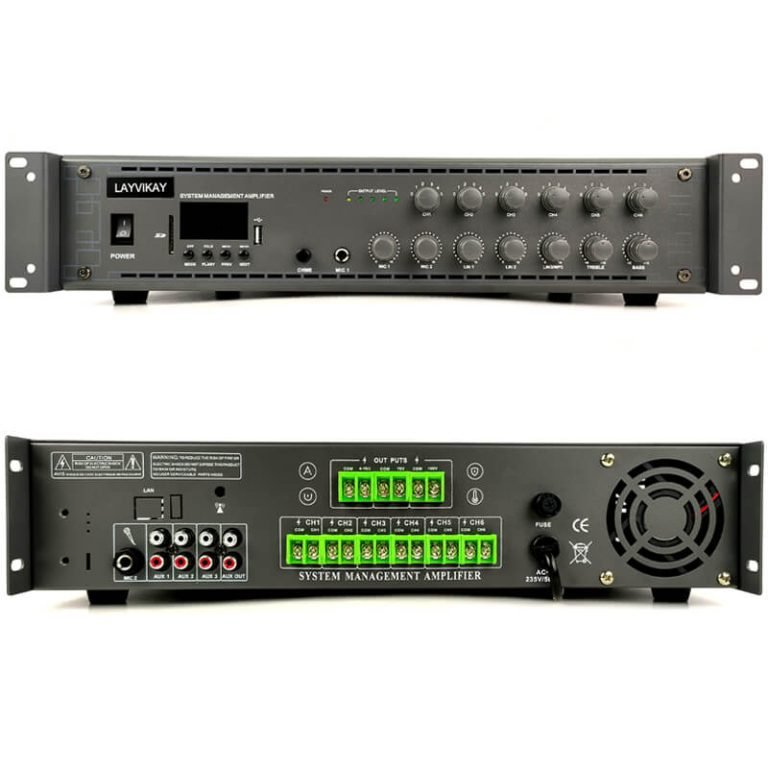 Layvikay provides high-performance PA system amplifier (public address power amplifier) at competitive prices. Differing from the professional power amplifier, the PA amplifier has two types of speaker outputs: one is the constant resistance with 4-16Ω, and the other is the constant voltage with 70V/100V.
Besides its regular functions, it has independent zone control, with microphone inputs in 6.35mm/XLR/combo sockets, auxiliary line inputs in RCA/combo sockets, MP3/SD card/USB, an AM/FM tuner, a built-in Chime, and more. Additionally, it has built-in protection circuits, with overload, output DC, and power-on delay protection functions.
Without a doubt, they are your perfect choice for public broadcasting/ background music in shops, offices, schools, warehouses, churches, restaurants and other public areas.
Constant Voltage + Constant Resistance Dual Functions
MIC1+MIC2 Dual Microphone System
6 Zones Independent Control
Digital Display
SD Card/USB Audio Input
Power and Clip LED Indicator
Short Circuit Protection
Overheat Protection
Soft Start Protection
Input and Output Overload Protection
Public Address Power Amplifier
Model:ST-MPG-120
Rated Power:120W
Rated Output Current: 0.9A@70V;0.6A@100V
Power Consumption: 200VA
Size:482x330x88mm 
Weight:9.3KG
Model:ST-MPG-250
Rated Power:250W
Rated Output Current: 2.2A@70V;1.5A@100V
Power Consumption: 400VA
Size:482x330x88mm 
Weight:12KG
Model:ST-MPG-350
Rated Power:350W
Rated Output Current: 3.6A@70V;2.5A@100V
Power Consumption: 550VA
Size:482x380x88mm 
Weight:14.5KG
Model:ST-MPG-500
Rated Power:500W
Rated Output Current: 5.0A@70V;3.5A@100V
Power Consumption: 800VA
Size:482x380x88mm 
Weight:15.7KG
Model:ST-MPG-700
Rated Power:700W
Rated Output Current: 6.5A@70V;4.5A@100V
Power Consumption: 950VA
Size:482x380x88mm 
Weight:17.3KG
Output 1:4-16Ω (section 1)
Output 2:70V (section 2)
Output 3:100V(section 3)
Output 4:100V(CH1-CH6 section 4)
Five-band Equalizer:250Hz;50Hz;1KHz;8KHz+/- 12dB
Frequency Response:130HZ-22KHz +/- 2dB(Low-cut);60Hz-22KHz +/-2dB(No low-cut)
THD(1KHz):<0.05%
S/N Ratio:MIC1-2 <-108dB equivalent input noise; LINE1,3 >88dB
Inputs:MIC1-2 -50dB 600 unbalanced; LINE1,3 -10dB 10K unbalanced
MIC1 mute adjust:-30dB
Line(Record) output:0dB(-10dB) unbalanced at 600Ω load

Bass Tone:±12dB(100Hz)

Treble Tone:±12dB(10KHz)

Standby Power Consumption:<3W

Power Supply:AC120V;220V;230V;110V/220V;50-60Hz
Working Temperature:-10~40℃
Storage Temperature:-30 ~85℃
Customized&Thoughtful Service
Most of parameters can be customized:
Your Logo and Package Design
The Front and Back Panel Design
Wattage and Housing Color
Special Function Addition 
Layvikay provides high-performance public address amplifier solutions with the latest technology, and more importantly, guarantees fast delivery times and attentive service to ensure customers sufficiently benefit from our high quality and competitively priced products.
Contact our sales team and let us know your requirement, we are pleased to recommend the most suitable PA system amplifiers.
Recommend matched loudspeakers