How To Purchase A Right LED Panel Light?
LED panel light is a popular choice for indoor lighting application. It is designed to provide a bright, even, and energy-efficient lighting solution for both commercial and residential applications. The light features a slim, low-profile design that easily blends with any decoration. Before purchasing LED panel lights, it's important to understand some key factors.
High-end LED panel lights are made up of several parts, including an AL frame, LED beads, PCB, diffuser plate, light guide plate, reflective sheet, and back plate. These lights are designed to be ultra-thin, with a thickness of only 10mm to 12 mm. You can get a very detailed dimensioned drawing of edge-lit at LayviKay 2 x 2 inch panel light.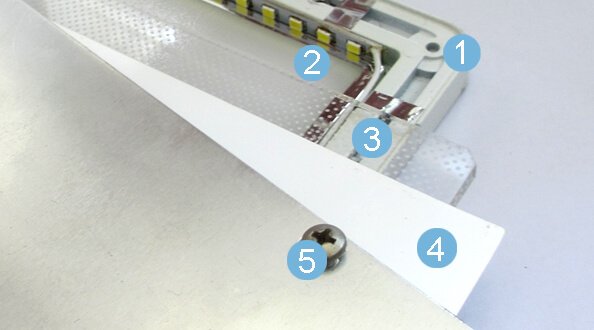 LED panel lights usually consist of several parts:
(1)AL Frame+LED Beads+ PCB (2)Diffuser Plate (3)Light Guide Plate(4)Reflective Sheet(5)Back Plate.
This structure is edge-lit type,it has ultra thin thickness(10mm).
LED beads are the heart of LED panel lights. They are semiconductor light sources that convert electrical energy into light energy. LED beads have many advantages, such as low power consumption, high brightness, and long life. Some high-power LED beads use ceramic metal substrates instead of metal substrates to improve their performance and lifetime.
The light guide plate is a high-transmittance plate with light guide dots printed on an acrylic or PC sheet. It helps distribute the LED light evenly and ensures that the light is exported from the front in a uniform manner. The quality of the light guide plate is crucial for the overall performance of the LED panel light.
The diffuser plate spreads the irregular light beam evenly. It is usually made of PC, acrylic (PMMA), or PS. PC diffusion panels are commonly used due to their impact resistance, anti-aging properties, and excellent flame retardant properties.
The purpose of the PET reflective sheet is to reflect the light exposed on the bottom surface back into the light guide plate, improving the efficiency of the light. The aluminum frame and back plate, usually made of 6063 or 6061 aluminum, are important for LED heat dissipation.
Advantages of LED Panel Lights
LED panel lights offer several advantages over traditional lighting options:
High Light Efficiency and Uniform Light Distribution
Most LED panel lights have a light efficiency of more than 110 lm/w. The light guide and diffusion plate ensure that the light is emitted evenly without any glare. This makes panel lights suitable for hospitals and commercial environments.
No Mercury Pollution, Low Light Attenuation, and Long Lifetime
Unlike traditional energy-saving lamps that contain mercury, LED panel lights are mercury-free and do not cause environmental pollution. They also have low light attenuation, meaning they maintain their brightness for a longer period. On average, LED panel lights can be used for more than 5 years.
Simple Installation and Low Maintenance Cost
LED panel lights are easy to install and can directly replace old grille lights. They can be installed in various ways, including built-in, ceiling-mounted, and suspended installations. Built-in and ceiling-mounted installations are ideal for most environments, while suspended installation is commonly used in large spaces like bars, restaurants, and stations.They are fully enclosed, preventing insects from entering the light and reducing maintenance costs.
Slim Design with Wide Application and Optional Multi-function
Ultra-thin LED panel lights have a slim design that adds a modern touch to any space. They are suitable for use in hospitals, residences, schools, shopping centers, offices, libraries, and restaurants. It comes in different color temperatures and offer various functions such as dimmable, remote control, rechargeable, voice control, and induction.
Comparison with Grille Lights
Panel lights have several advantages over traditional grille lights:
Most of LED panel lights have a higher light efficiency of over 110 lm/w, while traditional grille lights only have 50-60 lm/w.For example,layvikay 2×2 led panel light has a higher light efficiency of over 150 lm/w!
LED panel lights have an average lifetime of more than 50,000 hours, compared to the average lifetime of 8,000 hours for fluorescent lamps in grille lights.
Edge-lit Panel light provides even light distribution without any glare, thanks to the light guide and diffusion plate. Grille light cannot achieve the same level of luminous uniformity.
Edge-lit vs. Back-lit LED Panel Lights
When choosing between edge-lit and Back-lit LED panel lights, consider the installation space and material cost. Edge-lit panel lights have a height of 10 mm-12 mm, while back-lit panel lights have a height of 30 mm or more. You can get a very detailed dimension drawing of back-lit at 2 x 2 led light panel.
Edge-lit panel lights are higher prices due to the additional components like the light guide plate and reflective sheet. However, they offer better overall performance and lifespan. In general, the high-end market prefers edge-lit LED panel lights.