Solar powered sensor wall light is a perfect lighting solution for home entrance,garage,sign lighting,main property gate,dark corners and security lighting etc. In addition,it is also often used at rural, suburban and courtyard areas where is no embedded AC wires.
Infrared Sensor
Remote Control
Optical Control Function
Large Capacity Lithium Battery
Comes with high efficiency poly crystalline silicon solar panel
Turn off at daytime and turn on at night automatically
The extend wire length can be customized
No professional electrician is required,easy to mount
Designed for long-term and reliable performance with little or no maintenance.
Solar Powered Wall Lights
Model:ST-SSWL-56P
● Solar Panel:5.5V/1W
● Battery:3.7V/1200mAh
● LED:56pcsSMD2835 COB
● Luminous Flux:180lm
Model:ST-SSWL-100P
● Solar Panel:5.5V/1W
● Battery:3.7V/2400mAh
● LED:100pcsSMD2835 COB
● Luminous Flux:320lm
 Model:SL-SSWL-120P
● Solar panel:5.5V/1W
● Battery:3.7V/3600mAh
● LED:120pcsSMD2835 COB
● Luminous flux:380lm
Model:SL-SSWL-128P
● Solar panel:5.5V/1W
● Battery:3.7V/3600mAh
● LED:128pcsSMD2835 COB
● Luminous flux:420lm
Lamp Body Material: Tempering Glass+Extra resistant ABS construction
Work Mode:Romote Control/Automatic Light Control/Infrared Sensing
IP Grade:65
CCT:3000-6500k
CRI:75 plus
Lamp Size:14.8(L2)x11.2(W2)x2.4(T)cm/5.8"x4.4"x0.9"
Solar Panel Size:12.8(L1)x11.4(W1)cm/5"x4.5"
Battery:Li-iron phosphate;LiFePO4>2000 cycles
Solar Panel Material:Poly crystalline
Charging Time:5-8H
Working Time>10H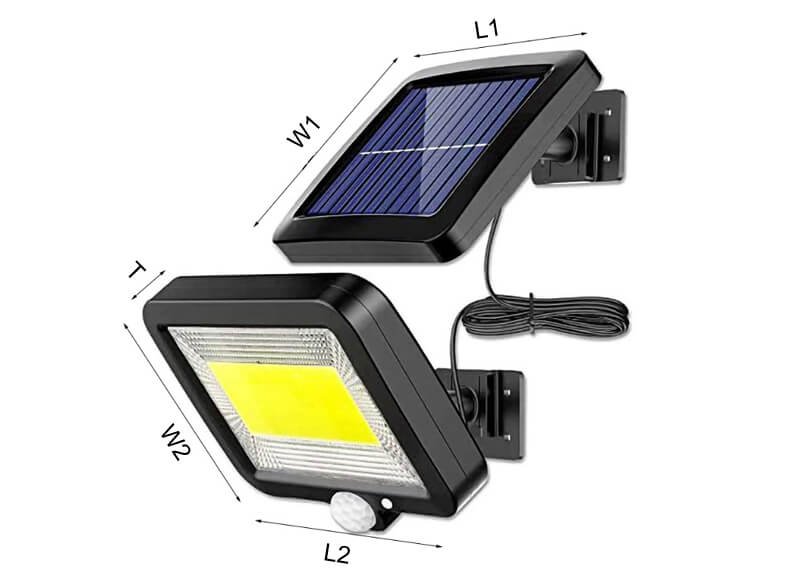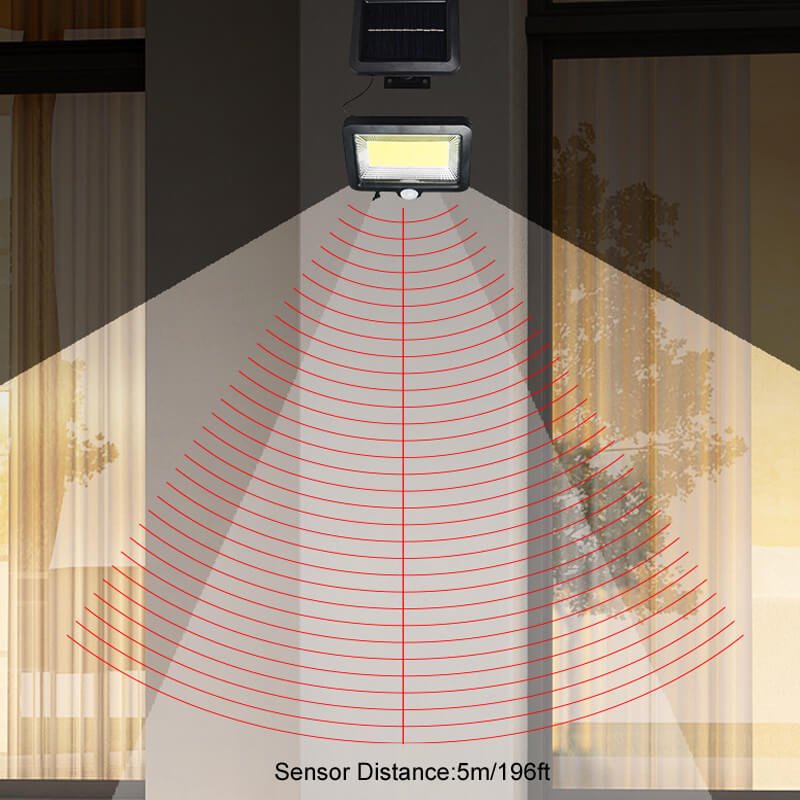 Infrared Effective Distance:5m/196"
Recommended Mounted Height:2-3m/78"-118"
Extend Wire Length:5m/196"
High efficiency poly crystalline silicon,the photoelectric conversion rate 19% plus'
Controller built-in intelligent chip, with overcharge and discharge protection function, intelligent battery power detection function
Human infrared induction with precise sensibility,and low power consumption
Large capacity lithium battery,it can works 10 hours/day base on full charged
Optical control induction function,no wiring,intelligent control charging energy at dawn,automatic work at dark
Easy to install,the angle of the mounting bracket is adjustable.
4 items of Solar Wall Lights
Best Solar Sensor Wall Lights from Layvikay
Water-resistant
Rust-resistant
Tempering Glass+Extra resistant ABS construction
3 Work Modes
Remote control
5m Extend Wire
Included mounting hardware
When someone crosses the sensing area, the light will be fully brightness.While the person leaves the sensing area, the light will automatically become 20% brightness.
Whatever in the cold rainy days or continuous rainy season, the lamp only needs to be charged with 5 to 8 hours, it will be able to continue lighting for more than 10 hours.
Solar Wall Light Benefits
Great lighting solution for somewhere is no embedded AC wires
Free from the utility grid
Easy to mount and doesn't obstruct foot traffic
High light efficiency 
Uniform light distribution, no glare light
No mercury pollution
Minimum light attenuation
Long lifetime
Minimum maintenance cost
Ambient Background & Indoor Lighting
Solar sensor wall light works great to light up garage,patio,porch as background lighting.
Placed near an entrance, it can light up a whole area, although the most light will be found nearer to the lamp.
In addition to being mounted on the wall as ambient background lighting, the extension wire of lamp can be customized, which allows this lamp to be installed indoors or in the bower, or even in the animal shelter.
It is widely used at home entrance,garage,sign lighting,main property gate,dark corners and security lighting etc.
Places the lamp near to an entrance or sign
Works great to light a courtyard area.
Can be placed either side of a warehouse or garage
Works perfect to light up a porch area
Can be used at the side or rear of house
Lights up the surrounding of patio area
Shines light onto the ground of steps for safety
No professional electrician is required,easy to mount almost anywhere.
The light and solar panel can be mounted to wall or solid horizontal surface.
The solar panel must be installed in a position that can receive full direct sunlight, and usually faces south at an appropriate angle.
The solar lamp must be used in a completely dark place at night, otherwise it may not be able to illuminate.
Strong light sources or ambient lighting nearby may affect the normal operation of solar lamps.
Customized&Thoughtful Service
Most of the parameters can be customized:
Light Source LED Beads Quantity
LED Chip Brand
Color Temperature
Extend Wire Length
Battery Capacity
Housing Color
Your Logo and Package Design
Layvikay not only provides high performance solar lighting solution with the latest technology, but also guarantees a fast lead time and thoughtful service to ensure customers are sufficiently benefited from our high performance products with competitive pricing.
Contact our sales team and tell us your requirements, we are very pleased to recommend you the most suitable solar sensor wall lights.
Solar Sensor Wall Light Application