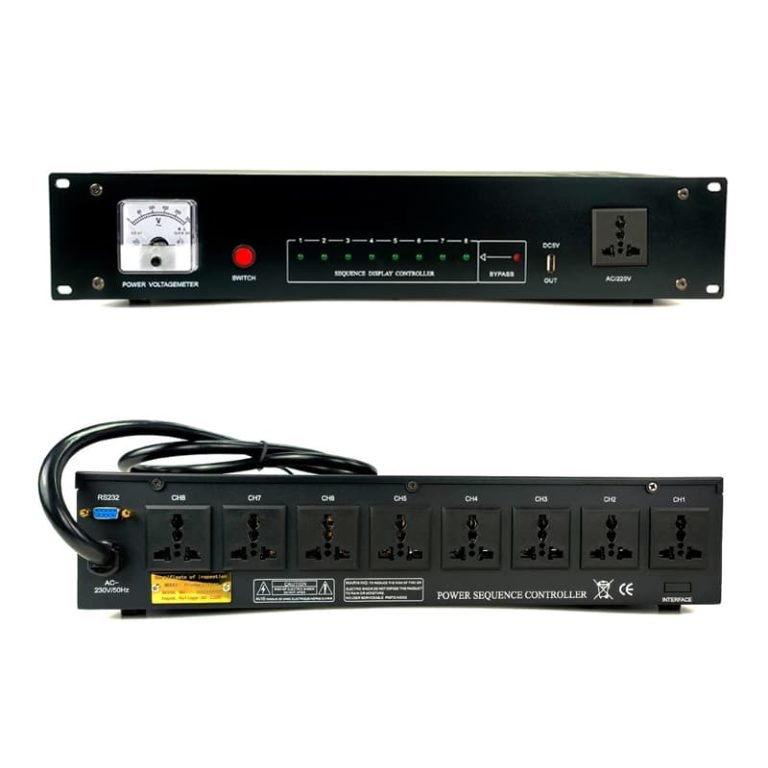 The Layvikay power sequencer ensures that your system is turned on and off correctly, avoiding damaging pops and hisses while also eliminating excessive inrush currents that can trip circuits. Compact in design, easy to use, and affordable in price, this power sequencer is ideal for applications such as touring sound reinforcement systems, mobile theatrical performances, live cinematography, and more.
It has eight built-in 30 A, 240 V relay circuits that sequentially start the power supply, turn it off in turn, and adjust the delay interval with an internal trimmer, all monitored by LED indicators.
Besides,it also comes with a 6-foot (1.8 m), grounded, three-hole power cord (3*4 square) for 120 V single-phase, 240 V single-phase, or even 208 V three-phase power wiring.
Thanks to advanced surge cancellation and extreme voltage protection, the Layvikay power sequencer frees your system from bulky, inconvenient equipment and distributes AC power to multiple circuits simply and safely, allowing your A/V system to perform at its best.
One button controlling the power supply of all channels, applied to different equipment.
With short circuit protection,over current protection and overload protection.
8 ways, controlling 8 channels power output, each channel is up to 30A
With USB connector,RS232 COM interface and voltmeter
Default output time-delay: 1S
AC Sequenced Power Distributor
Item No.:ST-PSC-01
Panel color: Black
Power requirement (single-phase & 3-wire): AC120/230V;50-60HZ two-phase (null line, live line, ground wire)
Channels: 8-ch universal socket relay controlled
One through socket at front panel
Relay controlled output maximum single power : 6000 W
Output power socket: flame-retardant ABS material, phosphor bronze material that can withstand 13A current
Switch interval / timing(per channel): default 1 second
Output relay contact current: 30A 240V AC
PCB Board: double-sided fiberboard, the main power line with bold thickening
Built-in switching power supply for AC120/230V;50-60HZ
Main cable: 3*4 square power cord, total length 6 foot(1.8 m), no power cable plug
External control switch interface: RS232 COM interface for central control
Power source filter (EMI power grid filter): customized
Product size:482x230x88mm
Outer package:540x340xx160mm
G.W.:6KG
Customized&Thoughtful Service
Most of parameters can be customized:
Your Logo and Package Design
EMI power grid filter can be added
Air Switch can be added
Independent switch can be added 
Power cable plug can be customized
Layvikay provides high-performance audio equipment solutions with the latest technology, and more importantly, guarantees fast delivery times and attentive service to ensure customers sufficiently benefit from our high quality and competitively priced products.
Contact our sales team and let us know your requirement, we are pleased to recommend the most suitable power sequencers.
The Layvikay 8-channel power sequencer is mainly used for sequencing complex power equipment for audio. It is ideal for public broadcasting, mini bars, small outdoor performances, school lecture rooms, multimedia conference halls, multi-function halls, training centers, villas, hotels, and homes.