Mini Amplifiers:A Basic Guide Before Purchasing
What Are Mini Amps Used For?
Before we get into mini amplifiers (mini amps) and their uses, let's briefly understand this electronic device.
Mini amps, also commonly referred to as amps, is an audio equipment that increases the power, voltage, or current of a signal. It's used in all wireless broadcasting, communications, and audio equipment types. In short, it enhances electric current.
Amplifiers also have different kinds and are typically categorized as:
Power Amplifiers:This type is generally used in broadcast transmitters, hi-fi audio devices, and wireless transmitters. You will see this device often used in bipolar transistors for power amplification.
Weak-Signal Amplifiers: Weak-signal amplifiers are often used in compact disc players, acoustic pick-ups, and audio tape players. It's mainly used in wireless receivers and is usually designed to deal with small input signals.
Mini Amplifiers: Meaning, And Its Uses
What is a mini amplifier? Besides the types, amplifiers come in different shapes and sizes, catering to various purposes. Regardless, it does the same thing, which is processing sound signals and making them louder through a speaker.
Most audio amplifiers are large-sized to produce sound with prominent amplification and power. However, some amps are compact and small which precisely is the description of a mini amplifier.
A mini amp also helps increase the sound and is small enough to be portable. It's lighter than the professional audio amp. Guitarists often use this type to practice without affecting the tone.
When it comes to quality of tone and sound, the professional audio amplifier has superior quality. However, this small amplifier comes in handy if you prefer a quiet, augmented sound.
Small amplifiers are generally DC-operated, while some provide dual power function. It also comes with headphone jack and other auxiliary line input. There are varieties of it, and some even come in pocket size. It doesn't have a specific setting to power wattage and will vary based on the models.
Unlike professional audio amps, it usually doesn't come with large power. However, some models, like Layvikay small amplifier, provide multiple features and strong power, including tone settings, dual speaker output, DC/AC Input,and other functions. More on this model is discussed below.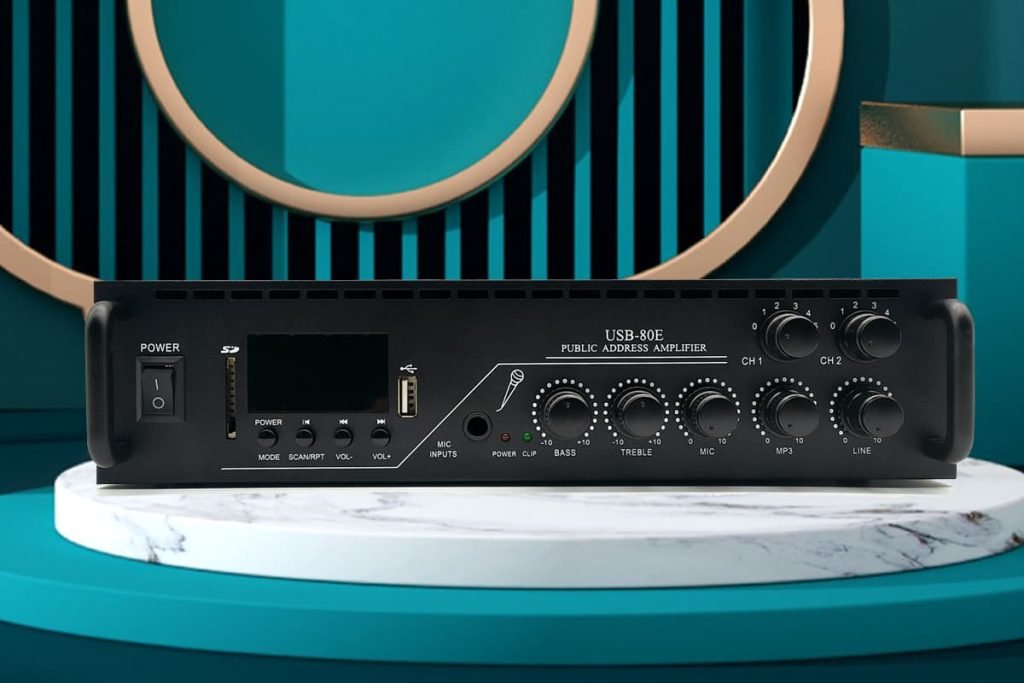 Do you want to know what mini amps are used for? Check the list below:
It is used in private and public spaces like shopping malls, churches, and restaurants.
Guitarists frequently use mini amps for practicing due to their quiet sound.
Besides musical use, you can use it with a digital recorder or an mp3 player. It helps the user in amplifying voice recordings or songs.
It's an ideal option for office presentations, meetings, schools, and personal uses as well.
Mini amplifiers are cheaper than professional ones, but larger amplifiers have higher power output. It's up to individuals to choose one based on their preferences. If it's for small events or personal use, small amps fit perfectly, while professional ones are for big occasions like concerts.
Layvikay Home And Commercial Mini Amplifier
Layvikay is a front runner when it comes to providing high-performance audio equipment at competitive prices. Besides professional ones, it also offers mini stereo amplifiers with multiple features.
The home and commercial mini amp series comes in two models (SC-2025MB and SC-2035MB). Both are ideal in personal and professional settings with multi-functionary designs. Besides differences in output power, the rest of the features are more or less the same.
These are some of the highlighted features:
 It has a dual speaker output function:
 Constant voltage:70V/100V
 Constant resistance: 4-16Ω
It features a dual microphone system (MIC1+MIC2).
These models have audio input for USB and SD cards.
It comes with a digital display and also features AM/ FM function.
These mini amps have built-in protection circuits and overload protection.
These models are compact, making them suitable to place in any setting. The design is simple and easy to use. The digital display and power indicator allow the hassle-free function of the amp. These models also have RCA input allowing you to connect it to your laptop, smartphone, or an mp3 player.
Furthermore, it has a decent frequency range and has the power option for both AC and DC input. It means you can use both main and battery powers. These mini amps also come with an analog equalizer to adjust tones like bass, treble, and MIC settings. With these tone settings, you can expect high sound quality, which is prevalent only in professional amps. In addition, no matter the front or the rear, the operation interface is very simple, please see the instruction below.
 Layvikay also provides customization services like:
Packaging design and logo.
Panel design (front and back).
Internal circuit design.
Special function addition.
The company has excellent customer service apart from offering high-quality mini amp stereos. Even better is its reasonable pricing. These models will be a perfect introduction to a mini amplifier for beginners. It's not only easy to use but provides a variety of functions that you may not find in most small amplifiers.