Network Audio Amplifier Guide Tips
A Network Amp, aka IP-based audio amp or network audio amp, is an audio device that merges the functions of an amplifier with audio distribution system via the use of IP (Internet Protocol) technology.
It's basically designed in a way that amplifies and distributes audio signals through an IP network.
This is entirely different from a traditional audio amp that connects to audio sources in a direct manner (e.g., Microphones, music players).
Instead, an IP amp will connect to a specific network and, in turn, receive audio signals from different sources via the network infrastructure.
Such sources include internet radio, digital audio files, music servers, streaming services, or any other source that operates through network-connected devices.
Features & Uses of Network Audio Amplifier
Audio Network amps usually contain built-in interfaces like Wi-Fi connectivity or Ethernet ports, which allows the device to connect to LAN (Local Area Network).
This device also supports a variety of streaming protocols like Ravenna, Dante, to help decode or receive audio streams.
The capacities and output power of device can support usually depends on its component configuration and the specific wattage. In such cases, some IP amps may even offer features such as LAN/Internet, zone control, large touch Screen, and audio mixing. The Layvikay IP Audio Amplifier is an excellent example of that.
Obviously,IP audio amps are typically used for commercial applications like background music systems and PA systems or as distributed audio installations for retail stores, schools, hotels, restaurants, and offices.
This device is generally used in such areas as it offers a suitable and flexible solution for audio distribution over large areas.
Public address network amplifier typically works by using IP tech to transfer and share audio signals through a network.
First, the amplifier connects to a LAN or any other IP-based network. The device will usually contain Ethernet ports or Wi-Fi connectivity to ensure this connection.Once connected, the power amplifier will start receiving audio signals from different sources. As mentioned earlier, this source can be anything from music servers and streaming services to internet radio or digital audio files.
Now, once the required audio signal is received by the amplifier, the signals are encoded into an IP network-compatible format. For this, standard protocols like Ravenna, AES67, Q-Lan, or Dante are used. The encoded signal is then transferred to an IP network infrastructure.
They're usually delivered as data packets which then travel over the network. Next comes network routing whereby the audio packets are routed to the intended destination. This pretty much involves routers, switches, or other forms of networking equipment that help ensure smooth transmission.
While the audio packets reach their IP audio amplifier within a specific speaker or zone, they're decoded back to analog audio signal. This audio signal is then amplified to a proper level to drive audio output devices or connected speakers.
As many IP audio amplifiers support various areas or zones for audio distribution, the amplifier will provide strong management and control capabilities. It allows users to control and configure specific zones, select audio sources, adjust volume, apply equalization, and perform other processing functions.
Finally, the IP amplifier control is facilitated via a dedicated web interface or software application. Users can access such interfaces through additional devices like smartphones, tablets, or computers to control and manage the settings remotely.
So, there you have it. That's pretty much a condensed explanation as to how an IP-based amp works.
Layvikay Network Audio Amplifier
When it comes to audio amplifiers, Layvikay is a pretty well-known name in the industry. The company is known for offering high-performing IP audio amplifiers, and the best part is the devices are released at a pretty competitive price range.
Unlike other pro audio amplifiers, the Layvikay IP audio amplifier comes with two speaker outputs. One consists of constant resistance of 4-16Ω while the other comes with a constant voltage of 70V/100V.
Connection 1: Constant resistance of 4-16Ω.
The constant resistance output is suitable for use over short distances, such as for connecting speakers in the living room or bedroom.
Connection 2: Constant voltage of 70V/100V
Constant voltage output is suitable for use in long distance situation still can get high quality sound quality, such as large supermarkets, shopping centers, large warehouses, churches, conference centers and other places.
Partition connection 3: Each channel independent contol
Widely used in various public network system
Apart from the standard and regular functionality, the device also features remote control functioning for the IP address network with an FM tuner, independent zone control, and built-in Chime (among others).
Moreover, it also contains in-built protection circuits, power-on delay protection, and overload functions.
With such neatly packed features, the IP amplifier from Layvikay undoubtedly serves as one of the best in the audio market today.
It's an excellent choice for services or venues such as background music in schools, churches, warehouses, restaurants, offices, or any other public-based areas known to society.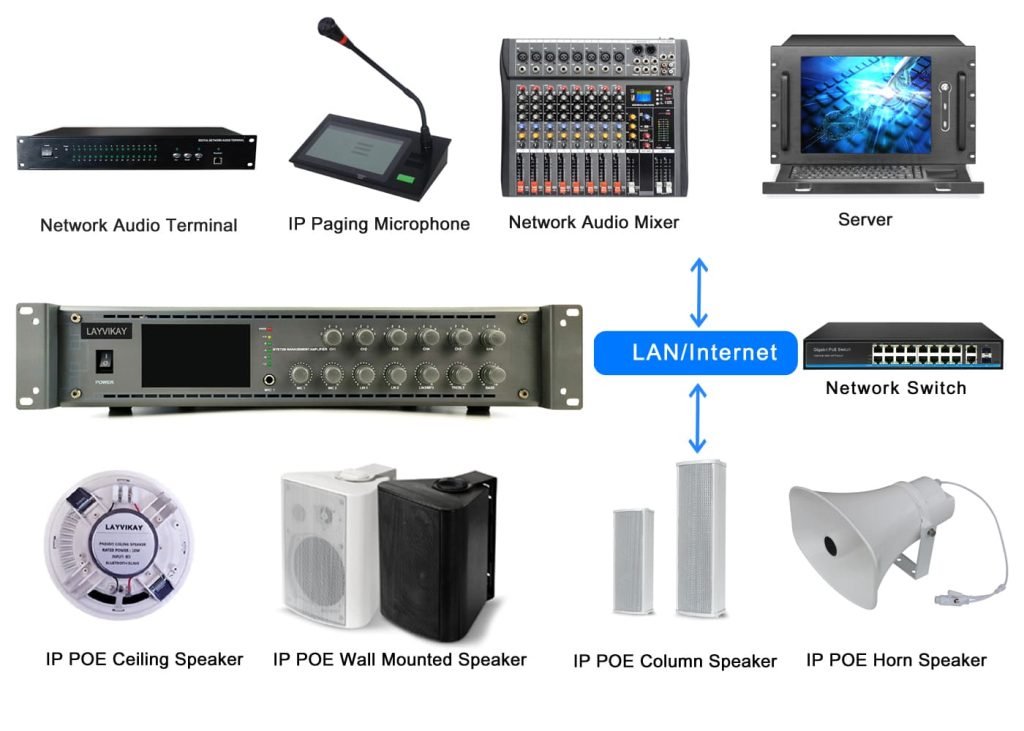 To wrap things up, here's a quick overview of some of its standard features:
Five signal inputs for microphones and routes
A single audio auxiliary output
Six zones for independent control
Built-in Bluetooth and FM radio compatibility
Power & clip LED indicator
Active cooling fan supported by intelligent temperature control
Touch screen LCD with USB/SD card audio input
MIC1 input for automated signal muting
Over-temperature protection and short-circuit protection output
Constant voltage and resistance dual functions
We does not only produce PA amplifiers, but also offers complete system solutions. And more importantly, Layvikay guarantees fast delivery times and attentive service to ensure customers sufficiently benefit from the high quality and competitively priced products.
Contact our sales team and let us know your requirement, we are pleased to recommend the most suitable public address power amplifiers.